Internships
Summer Field Ecology Internship for Undergraduates
The Yale School of Forestry and Environmental Studies seeks candidates for the 2019 summer research internship in field ecology. Interns will work with professors, post-doctoral researchers, and graduate students on a project in field ecology. Interns will be housed at the 
Yale-Myers Forest camp
 in northeastern Connecticut. The program runs from June 10th through August 2nd 2019, with some flexibility. 
Interns will focus on one project for the duration of their internship. In past years, projects have included surveying tree seedlings, quantifying herbaceous plant diversity, measuring forest floor environmental metrics (e.g., light and soils), bird point sampling, examining wood rot fungi and coarse woody debris, and studying insect species and responses to climate change in old fields. Research will primarily take place at the Yale-Myers Forest, but may involve periodic travel to field sites throughout Southern New England. Transportation to field sites is provided.
Application Deadline: February 15th, 2019
Please direct any questions about the internship or the application process to Laura Green at Laura.Green@yale.edu.
Accommodations
Interns will live within the vibrant summer population of the Yale-Myers Forest camp - a small, close-knit community of researchers and graduate student apprentices in forest management. Housing is available in bunkhouses, and hot dinners are provided by a camp cook during the work week. There are ample opportunities for recreation such as canoeing, swimming, hiking,  and generally enjoying a beautiful location. Yale-Myers Forest camp is located 40 minutes from Hartford, and is within a 1.5 hour drive of Boston, Providence, and New Haven. 
Qualifications
Interns should be undergraduate students looking for research experience to further their academic goals. Some coursework in environmental science is useful, but not required.
Funding
Yale students should submit an application to the EVST Summer Fellowship (Deadline: March 1st) concurrent with their internship application. First year Yale students should also consider the First Year Summer Research Fellowship in the Sciences and Engineering  (Deadline: March 7th). 
 For students not affiliated with Yale, we will work with you to help you secure funding. 
We are happy to provide supporting materials for any students' applications for funding. Please reach out if you are considering applying for the internship and are preparing funding applications.  Many fellowships require letters of support from sponsors, so please contact us to talk about your application early in the process. 
To Apply:
Online Application: https://yalesurvey.ca1.qualtrics.com/jfe/form/SV_eevDAOTl58tbddP
Application Checklist:
Online Application including:

CV or resume, including relevant coursework
Personal Statement / Letter of Interest: This is an opportunity for you to let us know a little about your background, personal and professional interests in ecology, what you hope to learn during this program, and your career objectives. 250 words maximum.

Letter of support from a faculty member. Letters should be emailed directly to Laura.Green@yale.edu with the subject line "Field Ecology Internship Reference (Applicants Name)"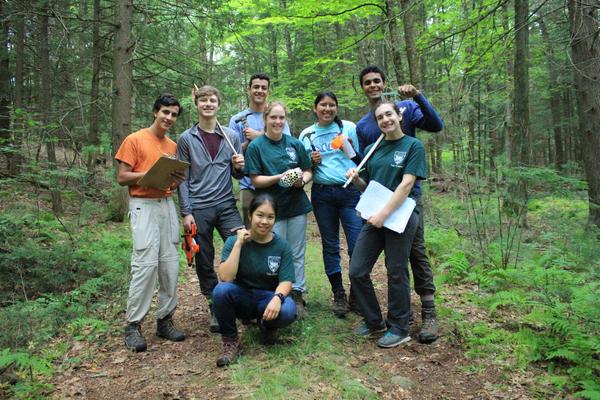 The 2018 Summer Field Ecology Interns. Photo from K Kan.