Ingalls Field Ecology Program
Summer Field Ecology Internship for Undergraduates

Photo by N. Arjona
---
The Yale School the  Environment invites undergraduate students to spend the summer working on field ecology research through the Louise H. and David S. Ingalls Field Ecology Program. Interns are matched with professors, post-doctoral researchers, and graduate students on a project in field ecology. Interns are housed at the Yale-Myers Forest camp in northeastern Connecticut.
Applications are closed for the 2021 season
Interns will focus on one primary project for the duration of their internship. In past years, research projects have included surveying tree seedlings, quantifying herbaceous plant diversity, measuring forest floor environmental metrics (e.g., light and soils), bird point sampling, examining wood rot fungi and coarse woody debris, and studying insect species and responses to climate change in old fields. Projects are determined by research mentors. Research will primarily take place at the Yale-Myers Forest, but may involve periodic travel to field sites throughout Southern New England. Transportation to field sites is provided. Depending on the project, research may include a variety of different physical tasks, and may include working in the heat, rain, or cold; hiking on uneven terrain; carrying 20-30lbs; and standing for extended periods. If you have any concerns about these activities, please get in touch with us to discuss your needs. 
Please direct any questions about the internship or the application process to the Research Manager (YMFResearch@yale.edu).
If you are an undergraduate student interested in developing your own independent research project at the school forests, please email Karam, the School Forests Research Manager, directly (karam.sheban@yale.edu). Though independent projects do not fit directly within the scope of the Ingalls program, we can help connect you to other resources and mentorship. 
Research Projects for 2021
We anticipate two primary projects for the 2021 field season. Additional projects may be added as the field season approaches. Opportunities may be available to work occasionally on other, short-term projects. Please get in touch if you have a specific area of interest within ecology, and we can advise you as to whether it is likely that you would have the opportunity to work in that area during this internship. 
ForestGEO Permanent Forest Census Plot: The Smithsonian's Forest Global Earth Observatory (ForestGEO) project began in Panama in 1980 with the aim to improve understanding of forest ecology and development through the installation of long-term forest census plots. Since then, the same protocol has been replicated at 67 sites across six continents. This network of sites and the data they produce have contributed numerous significant advancements, both theoretical and applied, in our understanding of how forests establish, function, and change through time and management. The establishment of a new ForestGEO site at Yale-Myers Forest is being led by a group of faculty members from several disciplines from soil ecology, to tropical forest ecology, to forest management, and understory plant communities.
Understory Plant Invasions & Forest Disturbance: This project examins the impacts of forest disturbance and understory plant invasions on soil nutrient cycling in recently harvested forest stands. The project will consist of a field experiment and is designed to look at the effects of three invasive plants that commonly co-occur with one another: Japanese honeysuckle, oriental bittersweet, and multiflora rose. Intern(s) will help collect post-harvest soil and vegetation data, set up experimental plots, sample soil and vegetation within the plots, and work in the lab to prepare and analyze soil samples. 
Accommodations
Interns will live within the vibrant summer population of the Yale-Myers Forest camp - a small, close-knit community of researchers and graduate student apprentices in forest management. Housing is available in bunkhouses, and hot dinners are provided by a camp cook during the work week. There are ample opportunities for recreation such as canoeing, swimming, hiking,  and generally enjoying a beautiful location. Yale-Myers Forest camp is located 40 minutes from Hartford, and is within a 1.5 hour drive of Boston, Providence, and New Haven. 
Qualifications
Interns should be undergraduate students looking for research experience to further their academic goals. Some coursework in environmental science is useful, but not required.
Funding
Yale students should submit an application to the EVST Summer Fellowship (Deadline: March 26, 2021) concurrent with their internship application. First year Yale students should also consider the First Year Summer Research Fellowship in the Sciences and Engineering  (Deadline: March 26, 2021). 
 For students not affiliated with Yale, we will work with you to help you secure funding. 
We are happy to provide supporting materials for any students' applications for funding. Please reach out if you are considering applying for the internship and are preparing funding applications.  Many fellowships require letters of support from sponsors, so please contact us to talk about your application early in the process. 
To Apply:
Given the uncertainty of this summer, if interested please send an email to ymfresearch@yale.edu. 
Application Checklist:
Online Application including:

CV or resume, including relevant coursework
Personal Statement / Letter of Interest: This is an opportunity for you to share with us about your background, personal and professional interests in ecology, what you hope to learn during this program, which of this summer's project(s) you may be most interested in, and your career objectives. 250-750 words.

Letter of support from a faculty member. Letters should be emailed directly to YMFResearch@yale.edu with the subject line "Field Ecology Internship Reference (Applicants Name)"
---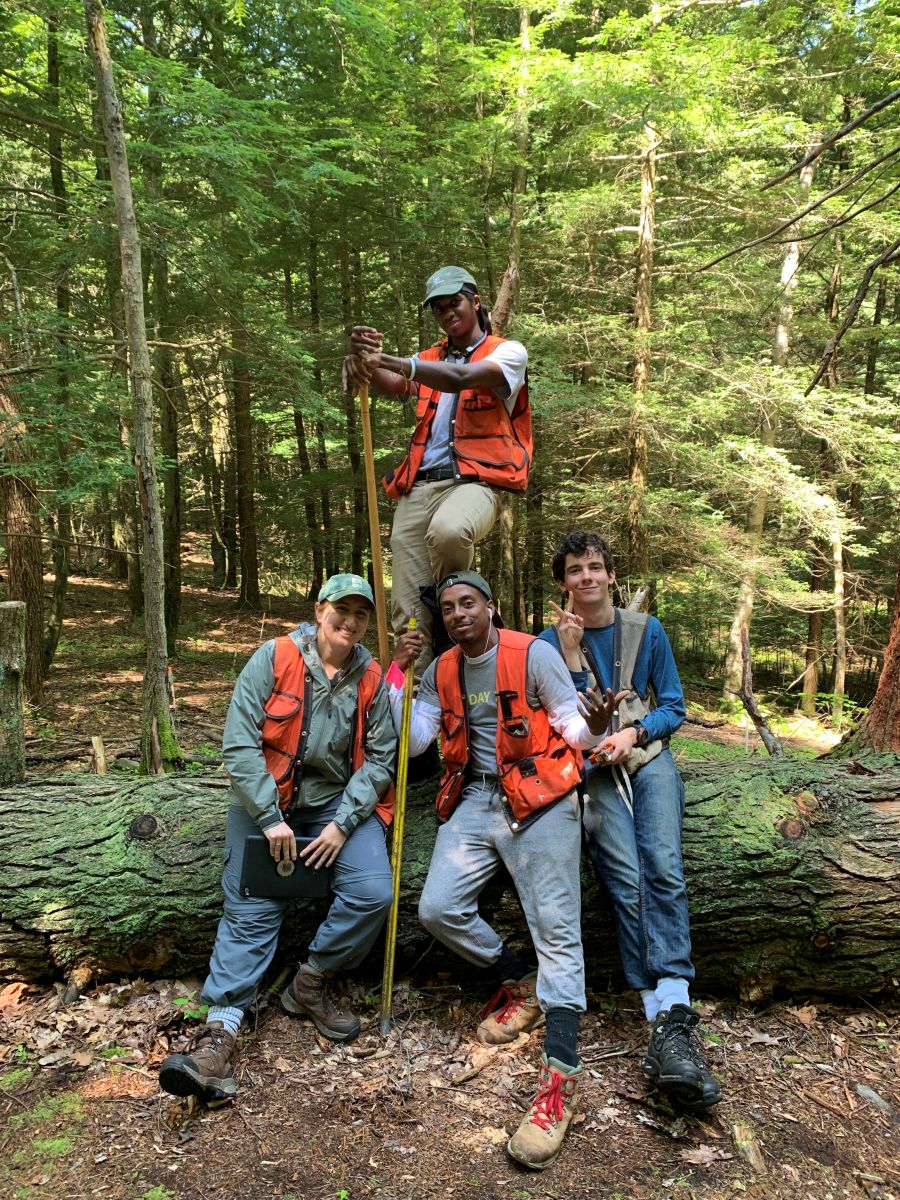 A group of the 2019 Ingalls Field Ecology Interns at their field site. Photo by D. Woodbury.