Ingalls Field Ecology Program
Summer Field Ecology Internship

Photo by N. Arjona
---
The Yale School the  Environment invites undergraduate or masters sstudents to spend the summer working on field ecology research through the Louise H. and David S. Ingalls Field Ecology Program. Interns are matched with professors, post-doctoral researchers, and graduate students on a project in field ecology. Interns are housed at the Yale-Myers Forest camp in northeastern Connecticut.
Research Projects for 2023
Long Term Research in Silviculture & Forest Ecology:
Working with the Silviculture Lab interns will work on a variety of studies looking at the influence of environment and land-use on ecological communities. Studies include monitoring regeneration vegetation in shelterwood treatments and surveying floristic patterns across the Yale-Myers Forest.
Methane production in Temperate Forests & Soil Organic Matter Sampling*
A team of students will split there time between two projects centered on understanding the role of forests in carbon cycles.
Methane is a greenhouse gas many times more potent than carbon dioxide, and responsible for approximately one third of anthropogenic global warming to date. Despite this, we know remarkably little about the cycle of methane in forest ecosystems. In the last few years, living trees have been discovered to be potentially unaccounted sources of methane to the atmosphere. This project aims primarily to measure the methane released from trees and soils, across species, ages, and landscape positions, to incorporate trees into the forest methane budget.
Soil organic carbon is the largest terrestrial ecosystem carbon pool, storing more than the atmosphere and vegetation combined. However, studies often use older fixed-depth sampling methods and report high local-scale variability within and among forest sites. As a result, meta-analyses have drawn opposing conclusions on the impact of forest management activities on forest soil organic carbon levels. We will use updated sampling methods to improve our understanding of how to reliably measure the effects of forest management on SOC stocks.
Disease dynamics in amphibian hosts to understand and predict disease outcomes in nature:
Our model system consists of an amphibian species found in Connecticut, wood frogs, and a naturally occurring pathogen, Ranavirus, that has been linked to massive mortality events and severe pathology in wild populations. I combine observational and experimental work to understand better the ecology, drivers, and characteristics of ranavirus-induced mortality events. Examples of this work include regular surveys of tadpoles in ponds in and around the Yale-Myers Forest and temperature preference trials in an experimental setup at the forest lab station. This work will give us a greater understanding of a pathogen of concern, and insights from this work may also further shed light on the causes and consequences of disease-induced mass mortality events.
Interns will live within the vibrant summer population of the Yale-Myers Forest camp — a small, close-knit community of researchers and graduate student apprentices in forest management. Housing is available in bunkhouses, and hot dinners are provided by a camp cook during the work week. There are ample opportunities for recreation such as canoeing, swimming, hiking,  and generally enjoying a beautiful location. Yale-Myers Forest camp is located 40 minutes from Hartford, and is within a 1.5 hour drive of Boston, Providence, and New Haven. 
Please direct any questions to the YMFResearch@yale.edu
Qualifications
Interns should be undergraduate students looking for research experience to further their academic goals. Some coursework in environmental science is useful, but not required.
Funding
While some limited funding is available for this program,  Yale students should apply concurrent for this internship with other Summer Funding Opportunities. These can be found on the Yale Fellowship and Funding Database. Some fellowships that our students have received include the EVST Summer Fellowship ; First year Yale students should also consider the First Year Summer Research Fellowship in the Sciences and Engineering . In addition, the Richter Summer Fellowships are available through the residential colleges. 
We are happy to provide supporting materials for any students' applications for funding. Please reach out if you are considering applying for the internship and are preparing funding applications.  Many fellowships require letters of support from sponsors, so please contact us to talk about your application early in the process. 
To Apply:
Applications for the 2023 season are due by March 17th, applicants will be chosen by the end of March.
Application Checklist:
Online Application including:

CV or resume, including relevant coursework
Unofficial transcript
Personal Statement / Letter of Interest: This is an opportunity for you to share with us about your background, personal and professional interests in ecology, what you hope to learn during this program, what kinds of projects you are most interested in, and your career objectives. 1000–2000 words.
Which project(s) you are interested in working on
For Yale Students: Where you have applied or will be applying for internal funding
For non-yale students: Whether you have any funding available to support your summer experience or if you need help securing funding

Name and contact information for a faculty member who could provide a reference for you.
Please email all materials in a single word or pdf document to YMFresearch@yale.edu
---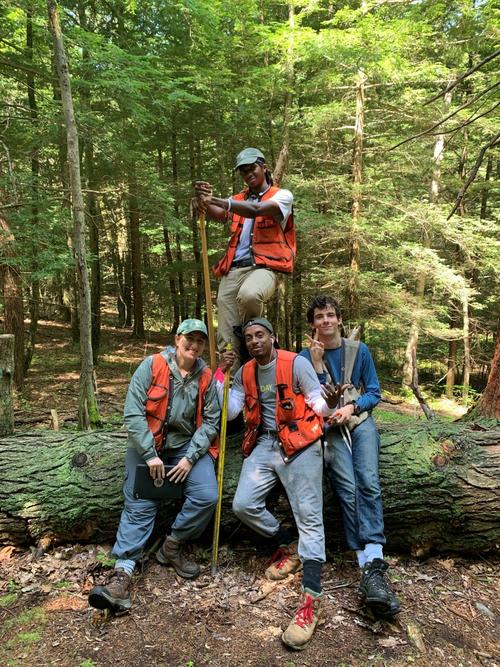 A group of the 2019 Ingalls Field Ecology Interns at their field site. Photo by D. Woodbury.