Introducing the Red Front Trail StoryMap!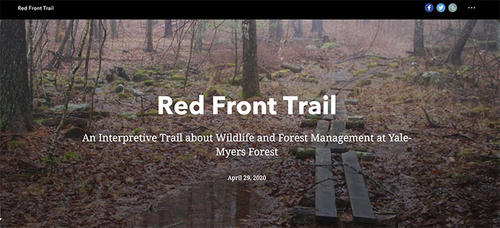 The School Forests Office is excited to announce the release of our first-ever StoryMap! This online platform will take you on a virtual "walk" through the Red Front Trail. Red Front is an area of Yale-Myers Forest that we manage for wildlife habitat, and the StoryMap is full of photos and descriptions of the wildlife habitat that we find in vernal pools, shelterwoods, areas maintained with prescribed fire, and more. Especially in these times, we are happy to be able to provide some connection to our forest and an avenue for learning from afar.
You can access the Red Front Trail StoryMap here.
The original Red Front Trail was designed by Mark Ashton, based on a Coverts management plan for Red Front written by David Kitteredge. There have been countless contributions to trail construction, writing, research, and design over the years from numerous students, staff, and faculty, including Phil Caspar, Frank Cervo, Marlyse Duguid, Shane Duigan, Francis Eaton, Dave Ellum, David Hobson, Tal Ilany, Alison Macalady, Phil Marshall, John McKenna, Vincent Medjibe, Jason Nerenberg, Chris Reily, Steve Roberge, Samantha Rothman, Dave Skelly, Lisa Smith, Becky Tavanni, Ben Urquat, and Steve Prinn.
The StoryMap version of the trail was created by Damaris Chenoweth, with support from Rosa Goldman, Laura Green, and Jess Wikle. The initiative to digitize the trail was supported by a grant from the Yale Poorvu Center, the Rosenkranz Award for Pedagogical Advancement, to Marlyse Duguid and Mark Ashton.